The living room mantel is the focal point of our main living area. You see it as soon as you come in the front door - here it is decked out for spring back in March:
The problem is, the "wall" above the mantel was just a sheet of foam over the brick, which goes from floor to ceiling. We discovered this when we tried to hang a picture and made a huge hole instead.
We decided to tear down the foam and put up some
sheetrock
instead - at the same time, I really hated the current mantel, so my husband graciously built me a new one :D
Below is the 2x4 that is nailed to the brick wall - the mantel is attached to this and it serves as support.
Checking to make sure the fit is perfect.
Applying wood putty to the rough edges and nail holes:
Our oldest was a very big help!
Painting the sheetrock to match the rest of the walls - we chose to paint the new mantel and frame in a
dark chocolate brown
:
The rich brown is a very close match to our
TV console
, coordinates with the large IKEA picture above, and is a good addition to our warm-toned living room.
Here is our new mantel area dressed up with some vintage Paris pictures and pretty flowers:
I LOVE this area, it looks brighter, cleaner and so much nicer - hope you enjoyed our little project!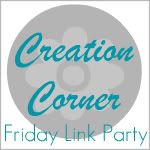 border="0" href="http://tatertotsandjello.blogspot.com"
target="_blank">
src="http://hadfield.smugmug.com/photos/825895175_xmTVA-O.jpg"
alt="Join us Saturdays at tatertotsandjello.com for the weekend wrap
up party!" />